Jet Grouting is a Ground Modification System used to create in-situ, cemented formations of soil. Using high velocity (>100m/s) cutting jets of water or cement suspension (grout) the system erodes and in-situ mixes the soil to form the soil grout composite material.  Jet Grouting can be carried out using three different systems. The choice of method is determined by the soil conditions, the required geometry, the required grout parameters and the application. The compressive strength of grout is a function of the cement content of the grout and grading of the portion of soil within the grout mass. The permeability and strength of the grout can be controlled by the addition of additives to the grout mix. Type of Soil Silt or Clay Sand Gravel UCS (MPa).
Single fluid System: Single System operates with a grout jet for simultaneous cutting and mixing of the soil. The Single System is used for small to medium sized grout columns in low density soils.
Double fluid System: The Double System uses a compressed air shroud around the jet nozzle to increase the erosion capability of the jet. The Double System is used in dense soils, installing panel walls, underpinning and mass treatment.
Triple fluid System: Typically used for underpinning and in sensitive or highly variable soils, the Triple system erodes the soil with an air shrouded water jet and simultaneously injects grout into the eroded soil through an additional nozzle.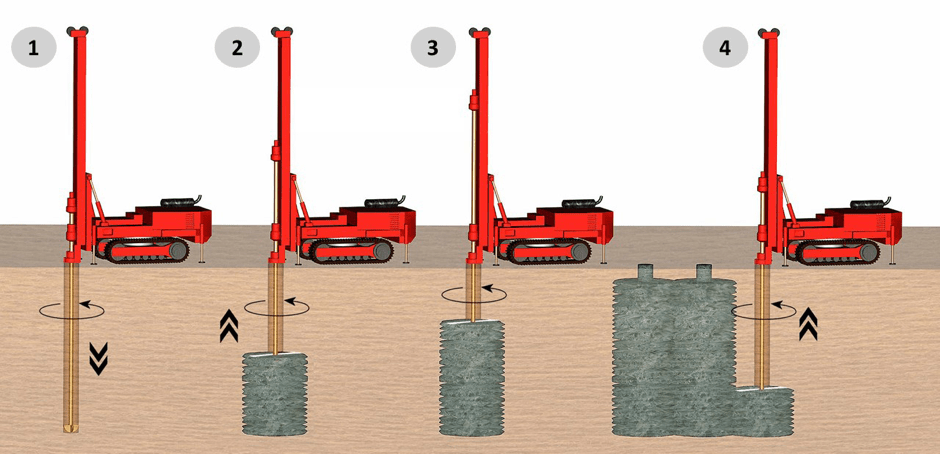 Common Uses
Often the preferred solution in any situation requiring control of groundwater or excavation of unstable soil (water-bearing or otherwise)

Underpin foundations such as quay walls and heavy structures
Provide excavation support

Seal the bottom of planned excavations
Advantages
Effective across the widest range of soil types of any grouting system, including silts and most clays

Ability to construct grout in limited spaces and around subsurface obstacles such as utilities, provides unique design flexibility
Low headroom equipment enables construction of grout in limited spaces such as basements
Ability to work around subsurface obstacles such as utilities, provides unique design flexibility
Can target specific soil layers at depth without having to treat soils above
Can often result in construction schedule savings
Can usually be done without disrupting normal facility operations
Containerised, highly mobile support equipment reduces mobilisation and demobilisation costs and time