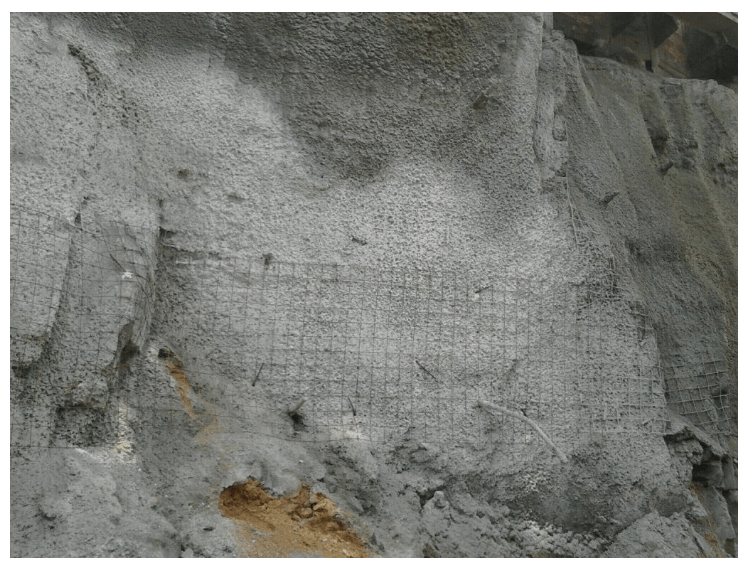 Shotcrete is a process in which mortar or concrete is conveyed through a hose and applied pneumatically. The sprayed material when applied to the surface, fills the cracks and fissures, provide resistance to loose material from slope from falling. Shotcrete serve as protective layer on the slope surface as well as provide resistance against the failure when used with anchoring support systems. This helps in achieving high strength and low permeability.
The shotcreting process is carried out form the base of slope to upwards so as to reduce rebound rate during the application of shotcrete on the surface.
The stabilization scheme for stabilization of slope using shotcrete can be designed and used with or without steel mesh. Design of shotcrete depends upon the purpose of project, design life, rock/soil strata.
There are two types of Shotcrete:
1.     Dry-Mix
2.     Wet-Mix
Dry-Mix Shotcrete
The cementing material and aggregate are mixed in proper proportions, bagged in a dry condition and are transported right to a pneumatically operated gun to deliver a continuous flow of material through the supply hose to the nozzle. The nozzle's interior is fitted with a water ring which uniformly injects water into the mixture as it is being discharged from the nozzle over the receiving surface.
Wet-Mix Shotcrete
The cementing material, aggregate, water and admixtures are properly mixed similar to what is done for conventional concrete. The mixture of material is supplied to the delivery equipment, like a concrete pump, which pushes the mixture through the delivery hose by positive displacement or by compressed air. Supplementary air is added at the nozzle to escalate the nozzle discharge velocity.
Advantages:
Little or no framework required.

Cost effective method.

Ideal for irregular surface application.

Material handling is easier.

Excellent corrosion resistance.