Slope stabilization is the process of establishing and implementing resistive measures against failure of slopes or fill embankments.
Factors creating destabilization and Mechanism behind it – There are mainly two slope destabilization activities namely; Natural and Man induced factors. Natural factors include slope failure occurring due to rainfall, seismic event, and time age weathering due to climatic conditions. Man induced factors include various anthropogenic activities such as un-engineered road cutting in hilly terrain; turning slope in more vulnerable condition, un-controlled blasting; this creates the various faults/fractures in the rock slope mass; continuous seepage action wash away the joint in filled material and thereby reduce the shear strength.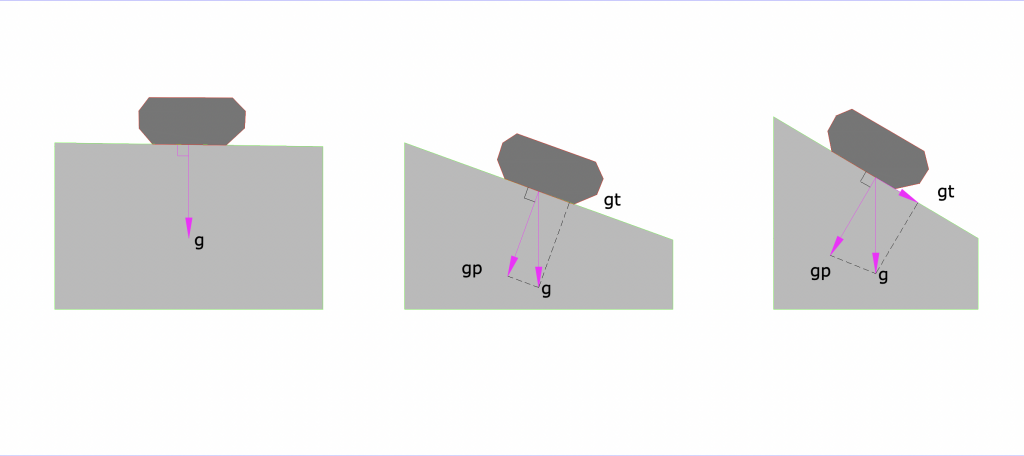 The perpendicular component of gravity (gp), helps to hold the object in place on the slope. The tangential component of gravity (gt), causes a shear stress parallel to the slope that pulls the object in the down-slope direction parallel to the slope. Steeper the slope, more tangential component of gravity (gt) and lesser will be the perpendicular component of gravity (gp) effect, which in turn increase shear stress and hence movement of overlying mass.
Apart from these factors surface failure is another mechanism under which the surface flow/failure occur due to surficial erosion. Aiding factor behind this failure is mainly due to loss of vegetation/deforestation.
Stabilization Methods– Stabilization of slope may be achieved by various means such as mechanical (structural supports in terms of Steel reinforcement, Rock anchor, Rock Bolts, Rock Dowels, Ground anchors or Cable anchors, Soil Nailing, Piles, Micropiles) for global and Soil nails/rock bolts/ SDA with steel mesh to cater local stability, Vegetative system, shotcrete, steel wire meshes for surficial protection against erosion.
Structural elements are designed and installed in such a manner taking account of earth pressure, stresses, and other factors so that it should have sufficient depth crossing the failure plane.
Slope stabilization can be achieved by constructing structural elements through the failure plane and taking them up to a desired (bearable and strong strata) depth below the failing plane. Implementation of slope stabilization techniques depends upon combination of various factors such as geology, hydraulic and groundwater conditions, rainfall and seismic events, history of any landslide activity in near site location.
Customize design analysis is carried out for respective cases and subsequent slope stability is attained by taking local and global/regional stability into account. Based on the result and considering viability of the project design solution is proposed and subsequently executed at site.