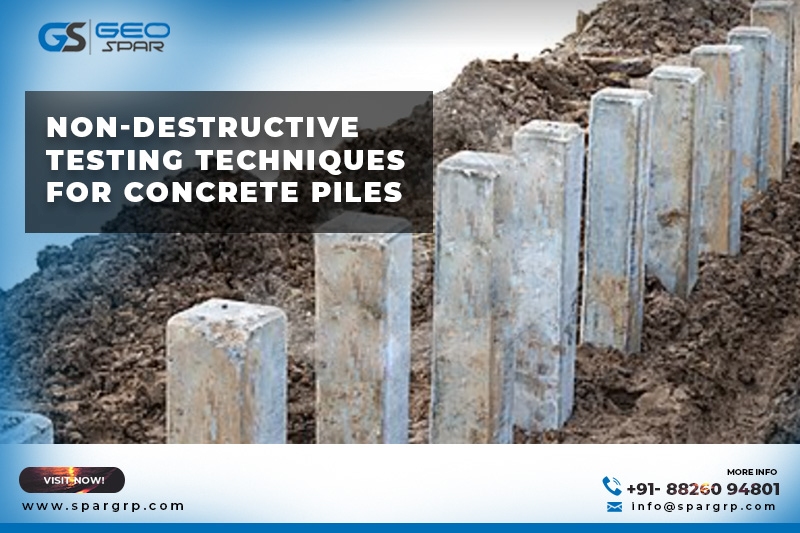 Concrete foundations are one of the most important elements in any structure – it provide stability andstrength, support heavy industrial equipment and structures, prevent slipping etc.We can perform various qualitative test to check the quality of concrete for e.g. the compressive strength and otherproperties of concrete from the existing structures. These test provides immediate graphical and quantitative results of concrete structure. The aim of non-destructive testing of concrete is to measure the actual characteristics of concrete without damaging the internal elements of structural. These test allows to get a general idea of the strength properties of concrete without being able to evaluate particular property and it also helps in identifying defects in concrete that might otherwise go unnoticed.
The standard method of evaluating the quality of concrete in buildings or structures is to test specimens cast simultaneously for compressive, flexural and tensile strengths. The test allows for a general idea of the strength properties of concrete without being able to evaluate each property individually and it also helps in identifying defects in concrete that might otherwise go unnoticed.
Methods of Non-Destructive Testing on Concrete:
Penetration method
Rebound hammer method
Pull out test method
Ultrasonic pulse velocity method
Radioactive methods
Penetration Tests on Concrete
The penetration resistance of concrete is measured by a test method called the Windsor probe. The test is conducted on a sample of concrete and it shows how much pressure it can withstand before allowing the steel probe to go through it. The result of this test is influenced by aggregate strength.
The purpose of the penetration resistance test is to determine the uniformity of concrete and specify poor quality or deteriorated concrete zones. It is sometimes necessary to estimate the strength of concrete on-site for early form removal or to investigate the strength of concrete in place because of low cylinder test results.
2. Rebound hammer method
Rebound hammer test is a Non-destructive testing method of concrete which provides a convenient and rapid indication of the compressive strength of the concrete. The rebound hammer is also called as Schmidt hammer that consist of a spring controlled mass that slides on a plunger within a tubular housing
3. Pull out test method
A pull-out test measures, with a special ram, the force required to pull from the concrete a specially shaped steel rod whose enlarged end has been cast into the concrete to a depth of 3 in. (7.6 cm).
The concrete is simultaneously in tension and in shear, but the force required to pull the concrete out can be related to its compressive strength.
The pull-out technique can thus measure quantitatively the in-situ strength of concrete when proper correlations have been made. It has been found, over a wide range of strengths, that pull-out strengths have a coefficient of variation comparable to that of compressive strength.
4. Ultrasonic pulse velocity method
The Ultrasonic pulse velocity (UPV) method is the only one of dynamic non-destructive type that shows potential for testingconcrete strength in situ. It measures the time of travel of an ultrasonic pulse passing through the concrete and is dependent on the concrete material. This method can be used for detecting internal cracking and other defects as well as changes in concrete such as deterioration due to aggressive chemical environment and freezing and thawing.
5. Radioactive methods
Radioactive methods of testing concrete can be used to detect the location of reinforcement, measure density and perhaps establish whether honeycombing has occurred in structural concrete units.
Need more information, connect with our experts.