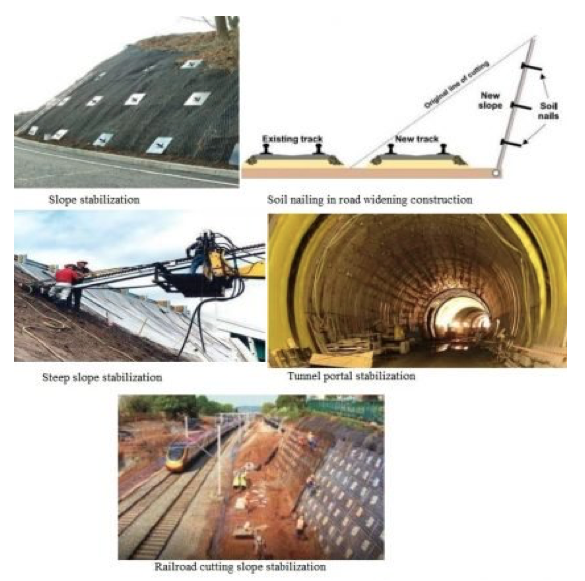 Soil nailing is the process of installing reinforcement with a designed spacing of steel bars or nails in the existing ground using a top-down construction technique. The soil nail process is proceeded by installing reinforcement (bar/rod) in the drill hole in the ground, followed by grouting throughout the length. 
This technique is applied for stabilizing the slopes, excavations, and retaining walls. This technique's construction is top to bottom, and head plates are installed on each nail on the ground surface. Shotcrete is applied on the excavation face to make a construction of a soil nail wall. 
The soil nailing method is used for temporary stabilization of soil slopes that do not provide corrosion protection to the reinforcement steel or nails. 

The above figure shows soil nail wall construction steps with various excavation levels and using various construction elements.

Soil nailing technique process
Soil is reinforced with slender reinforcing bars are installed at an inclination of 10 to 20 degrees.
Excavate for installing the nail ground surface in steps.

Drilling is done for designed cut heights.

Nails are driven into drilled holes.

Bond is made between nail ground using grouting materials.

Installation of soil nail head plate.

The construction phase of shotcrete on soil face with wire mesh or other reinforcement if required.
Applications of soil nailing
Landslide stabilizations.

Embankments of road and railway fill.

Tunnel portals protections.

Tunnel face stabilization.

Stabilization of existing structures such as retaining walls.

Protection works for deep excavation for underground purposes.

Shoring works for temporary protections.