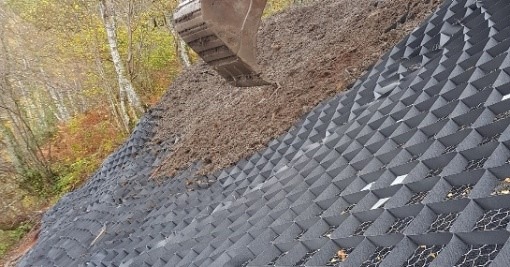 Spar Geo Infra, Geotechnical Engineering refers to a branch of civil engineering which includes the analysis, design, and construction of subsoil structure, foundations, tunnels, offshore structures, and earthen embankments. Moreover, it includes the analysis and providing an effective mitigation solution for soil/rock slopes.
Spar Geo Infra Pvt. Ltd. is a comprehensive solution provider in the field of geotechnical engineering project complexities. Being specialized in the design and execution of slope stabilization services and ground improvement works (also, Micropile foundation and drilling and grouting services) for critical problems like Landslide, Shooting stones, Debris flow, Avalanches, and Ground-sinking, we have done many prestigious projects.
Spar Geo Infra Services:-
Slope Stabilization Services – Using Cable Anchor/Ground Anchor, Self-Drilling Anchor, Fully Thread Anchor, and Shotcrete; Rockfall Protection/Rockfall Mitigation– Using High Tensile Wiremesh, Rockfall barriers, and Debris flow barriers; Foundation engineering Services – Micropile, Sheet pile, Contiguous, and Secant pile; Ground Improvement– Using TAM (Tube‐A‐Machete) grouting/Permeation Grouting, Consolidation Grouting, Compaction grouting, Jet grouting, Cavity grouting, and Stone column.
Slope Mitigation Measures: – Slope mitigation is not a one-size-fits-all task. Slope stabilization is attained through various techniques such as by improving the drainage system or by installing surface (erosion control) and subsurface (horizontal and vertical) drainage system or by a vegetative cover (increase lateral soil shear strength and cohesion during saturated conditions by forming complex root system within the soil block).

 Fig 1: Surface erosion control systems using hydroseeding, erosion control mat, geocells Soil Nailing, SDA (Self-drilling anchors), and ground anchors provide overall/ global stability to the slope. The permanent grouted anchors have been extensively used to provide vertical and lateral support for natural and engineered structures. The grouted end type of anchorage, where the tendon is grouted below the potential slip surface, has been used to stabilize dangerous slopes to a specified safety factor because of its significant technical advantages resulting in substantial cost savings and reduced construction period.

Shotcrete is an all-inclusive term to describe the spraying of concrete or mortar either by a dry-mix or a wet-mix process, which is commonly used to provide surface reinforcement between the blocks of rock and also to reduce weathering and surface scaling.

Spar Geo Infra Rockfall barriers Solutions are used to catch/hold or protect roadside and infrastructure. Installing the rockfall barrier system holds better where it is difficult to use other methods, as defined above.
The barrier can resist a higher load compared to the rigid concrete retaining wall. Different ranges of rockfall barriers are available as per kinetic energy that is impacting the barrier (500 kJ-5000kJ). Optimum location and height of the post are decided based on trajectories.

Fig 2: Typical pattern of self-drill anchors with HT wire mesh system (left), Ground anchor and cladding wall system (middle), and Mechanism for cable anchors (right) 
Foundation Engineering Techniques: – Micropiles are small diameter drilled and grouted friction piles comprising steel elements in which each pile is bonded into the bearing soil or rock, usually with cement grout. The bearing stratum is logged during installation drilling to assure that bearing capacity is adequate. Micropiles do not rely on end-bearing capacity, so there is no need to establish the competency of rock beyond bond-depth.

Fig 3: Flexible rockfall protection barrier with components details
Mechanically stabilized earth embankments are a system for constructing fills at very steep to verticalangles without the use of supporting structures at the face of the fill. The system uses horizontal layers of flexible metal strips within the fill to form a composite earth-metal system with high strength.
HT Wiremesh system provides local stability by restricting the particles in its position. High tensile wiremesh system used for stabilizing slopes by pinning them with a combination of rock or soil anchors, as well as installed as a drape to control erosion. HT wire mesh system, in combination with SDA, proves to be an economical engineered solution as the original slope profile is maintained, appears good from an aesthetic viewpoint due to re-vegetation cover.

Fig 4: Series of pile system to control the movement of unstable mass
Ground improvement techniques: – It includes (a) Tube-A-Manchette grouting (TAM Grouting), in which holes are drilled around the circumference at equal intervals, and each hole is covered by a rubber sleeve, which allows only one way (outward) movement of the grout. (b) Rock fissure grouting for sealing the fissures in the rock zone (c) Compaction grouting (low mobility grouting) that displaces and densities loose granular soils, reinforces soils, and stabilizes subsurface voids or sinkholes. (d) Jet grouting (high- velocity fluid jets) is a grouting technique that creates in situ geometries of soil Crete, using a grouting monitor attached to the end of a drill stem.

Fig 5: TAM grouting process (left), TAM grouting followed by (1) Drilling at required depth (2) Installation of TAM (3) Sleeve grouting (4) TAM grouting at desired zone