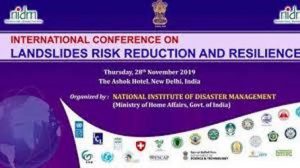 National Institute of Disaster Management (NIDM) organized the 1st International Conference on "Landslide Risk Reduction and Resilience" on 28th November 2019, at The Ashok Hotel, New Delhi.
The conference was focused on understanding the past and the present processes to ensure a reduction in risks related to landslides and resilience through effective and successful strategies and approaches. The conference also discussed various issues of landslides with reference to Urbanization Agenda, Sendai Framework for Disaster Risk Reduction (SFDRR), Climate Change, Sustainable Development Goals (SDGs), among other issues.
The conference was attended by experts and relevant functionaries from the government and non-government agencies, academics & research institutes.
Spar Geo Infra Pvt. Ltd. submitted a paper on "Long Term Landslide Mitigation Technique Illustrated – A Case Study", which got selected. The company's director, Mr. Nitin Goyal, was then invited to participate in the conference. He had a good interaction with other delegates and got a lot of insights on the issues.