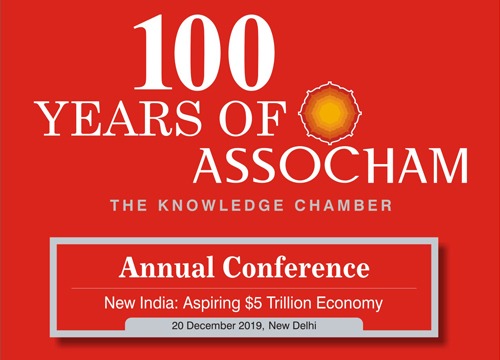 ASSOCHAM INDIA celebrated its 100 Years on 20th December, 2019 at Vigyan Bhawan, New Delhi. The annual conference was graced by the presence of Shri. Narendra Modi, Hon'ble Prime Minister of India. The conference was focused on "New India: Aspiring $5 Trillion Economy".
There were special plenary sessions by Smt. Nirmala Sitharaman, Hon'ble Minister of Finance and Corporate Affairs (Session Theme : $5 trillion would require India's own growth model), Shri Piyush Goyal, Hon'ble Minister of Railways and Commerce & Industry (Session Theme : Strengthening India's global positioning), Shri Nitin Jairam Gadkari, Hon'ble Minister of Road Transport & Highways and MSME (Session Theme : Driving India's growth engines – MSMEs and Infrastructure) and Shri Ravi Shankar Prasad, , Hon'ble Minister of Law and Justice, Communications and Electronics & Information Technology (Session Theme : Creating a vibrant regulatory system for New India).
Smt Smriti Zubin Irani, Hon'ble Minister of Textiles and Women & Child Development chaired a round table conference. The conference was attended by a lot of other top officials from various companies of varied sectors.
Spar Geo Infra Pvt. Ltd.'s team attended the conference and had a full-fledged day of learning about how the government is planning to move India in the direction of development. In addition to it, what roles private companies based in geo engineering field can do to help boost the economy.