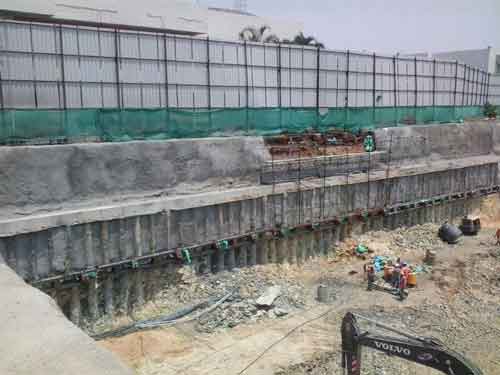 Problem:
Metropolitan cities were facing land scarcity and out of which Bengaluru (Bangalore) called to be a cyber-hub of India is the main victim. As it was huge commercial project with 3 storied basement. So they decided to have a deep excavation to have increase basement number to 3 number. But the geotechnical conditions present over there were not feasible to have an unsupported excavation cut, presence of commercial projects behind the plot area made the deep excavation much more risky.  The options were minimized due to account for higher loads using conventional methods such as retaining wall which in turn decrease the working space.
Solution:
The decision was finalized with many alternatives but which are not satisfactory and out of which one alternative was best suited for deep excavation was anchored wall to accommodate the higher loads. So since Geo Spar is specialized with these techniques it was awarded to us.  Geo Spar proposed moderate changes in facing for the anchored wall and its position to be provided. Based on the site constraints and geo technical conditions the anchor provided with contiguous pile wall on the sides where commercial complexes reside. The contiguous pile wall can be used as a basement wall or helps in reducing the loads on basement wall which helps in reduction in thickness. The other sides where loads were on minimal side was proposed for soil nailing. As the solution was found to be optimal and client was satisfied, we proceeded for the design with our method mentioned where the diameter of contiguous pile is around 600mm (M30) and Fe500 steel and Active anchor of 60 ton capacity was fixed with a spacing of 3m*3m of free length varied from 8.5m to 10.5m and fixed length of 6m. The grout material used of w/c ratio 0.4 attaining M30 grade. Soil nailed wall of 1.0m *1.0m c/c spacing with an inclination of 10 degrees  of 75mm thick shotcrete (M25) was provided for facing criteria. 
Difficulties Faced:
Contiguous pile wall driving is a difficult task in case of rock strata as for socketing of rock is major task which requires hard bucket tool for depth of embed and even that the maintaining the perfect spacing among the piles to have uniform c/c spacing for the installation of anchors with limited tolerance in vertical alignment.
Achievements:
The contiguous pile wall which was constructed for deep excavation behind the same location by another contractor collapsed due to improper design and construction activity. But our project stood still which received appreciation from Client Project Director.